I had to look at the work of Claude Lorrain and Turner. Then write notes on how those artists divide their landscapes into the foreground, middle ground and background.
Lorrain never worked on any other subject other than landscapes. He separated his paintings with very clear areas. The foreground in the above picture looks almost as if it could be a frame made from bold intricate figures, animals, tress, shrubs and pillars. The eye is drawn through this frame work to the middle ground of more tress and a church/building. This section is drawn with less detail and is much lighter in colour. The background in the distance is so faded that it is nearly nonexistent show only a representation of what could be far away.
Simular to the above drawing, this painting has the same typical structure. The people, boat and the few selected items in the foreground have been awarded the most time and detail to give them a bold look. The mid ground of people, buildings and boats a little lighter and the background faded showing very little in detail almost looking unfinished.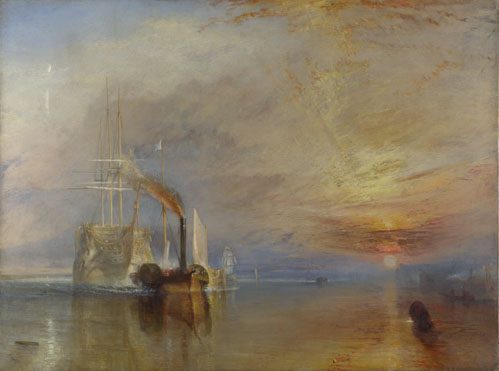 Turner separates his landscapes in the same way as Lorrain. The foreground water with great detail, the ship closest to the viewer is the clearest and richest in colour, the mid section still showing some of the detail of the ships and the background a wish wash of muted colours.
In this Turner masterpiece, he has shown more detail in the mid section of ships, the foreground has lesser detail as it is in darkness and the background more light with the moon shinning down on the hazy detail of the ships and land in the distance.